Sidie Mohamed Tunis of Sierra Leone Elected New Speaker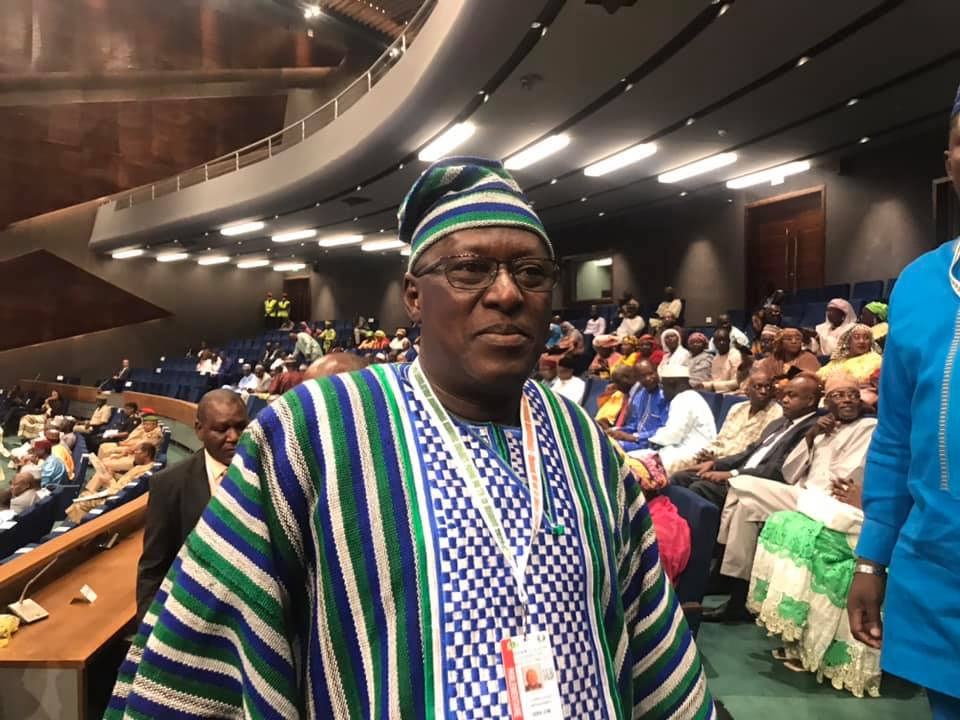 Niamey, 12 March 2020. The Parliament of the Economic Community of West African States (ECOWAS) has elected a new Speaker in the person of Mr. Sidie Mohamed Tunis, the current leader of government business in the National Assembly of Sierra Leone. The election took place on 9 March, 2020 in Niamey following the inauguration of the Fifth Legislature of the Community Parliament, by His Excellency, Issoufou Mahamadou, the President of the Republic of Niger and Chairman of the ECOWAS Authority of Heads of State and Government.
The high point of the inauguration was the signing of the Decision transferring the position of the Speaker of the 5th Legislature to the Republic of Sierra Leone, by the Chairman of Authority, President Issoufou, in line with the provisions of the Supplementary Act on the Enhancement of the Powers of the Parliament.
Speaker Sidie M. Tunis became the fifth Speaker of Parliament, by popular acclamation, succeeding Moustapha Cisse Lo from Senegal who presided over the 4th Legislature of ECOWAS for a period of four years. His nomination was done by Hon. Veronika Kadir Seesay and seconded by Siaka Samah, both from Sierra Leone.
The election of Speaker Tunis was followed by four rounds of elections that produced the four Deputy Speakers to fill up the five-member Bureau of Parliament headed by the Speaker. Consequently, Nigeria's Ahmed Idris Wase who also doubles as the Deputy Speaker of his National Assembly, was elected First Deputy Speaker, a position he held in the Fourth Legislature.
Subsequent rounds of elections for the positions of the Second and Third Deputy Speakers saw Sani Malam Chaibou Boucary of the Republic of Niger and Atcholi Aklesso of the Republic of Togo emerge, respectively. Adja Satu Camara Pinto of Guinea Bissau was elected the Fourth Deputy Speaker, in the final round of the elections, thereby fulfilling the 30 percent women participation as proposed in the Supplementary Act enhancing the powers of the Parliament. Find below in a tabular format, the composition of the Bureau of the 5th Legislature:
Composition of the Bureau of the ECOWAS Parliament
Position
Name
Country
Speaker
Sidi Muhammed Tunis
Sierra Leone
First Deputy Speaker
Ahmed Idris Wase
Nigeria
Second Deputy Speaker
Sani Malam Chaibou Boucary
Niger
Third Deputy Speaker
Atcholi Aklesso
Togo
Four Deputy Speaker
Adja Satu Camara Pinto
Guinea Bissau
The duration of a legislature of ECOWAS is four years and the mandate of the Bureau Members shall be for the life of the Legislature, according to Article 25B (1) of the Supplementary Act A/Sa.1/12/16 relating to the Enhancement of the Powers of the ECOWAS Parliament.